Friday, August 17, 2007


A little late, but I haven't done an Illustration Friday thing before, so here ya go.
Tuesday, August 14, 2007
Ok, so I have it narrowed down to 2 possible card designs.

Design 1 is more simple and clean, easy to read. I think it looks professional and I'd be happy to go with it.

Front Back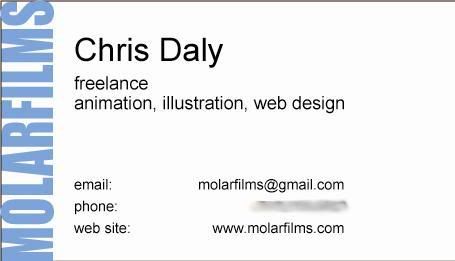 Design 2 is a lot more fun, I think. Also, I'm planning on making a Flash version of my website in which I hope to incorporate the Molar character. Some of the colors on this are just placeholders, and the heading needs to be spiffed up a bit, but I wanted to get it up for comments now that it gets the jist across.




So there they are. I'd like to get them going pretty quickly, but I'm have a lot of trouble deciding! If anyone has any likes, dislikes, comments, criticisms, or anything else they'd like to share, please let me know!
4 out of 5 dentists recommend

Labels: Molar, my 2 cents